Amenities & Infrastructure
The map below highlights the Amenities & Infrastructure Framework recommendations identified for the Medical Center Area Regional Center. Scroll down learn more about the vision for Amenities & Infrastructure in the Plan Area.
To provide specific feedback on the map, please click and drag a box on that location of the map and fill out the comment box. We would love to hear more from you!
You can also visit the bottom of this page to leave additional feedback.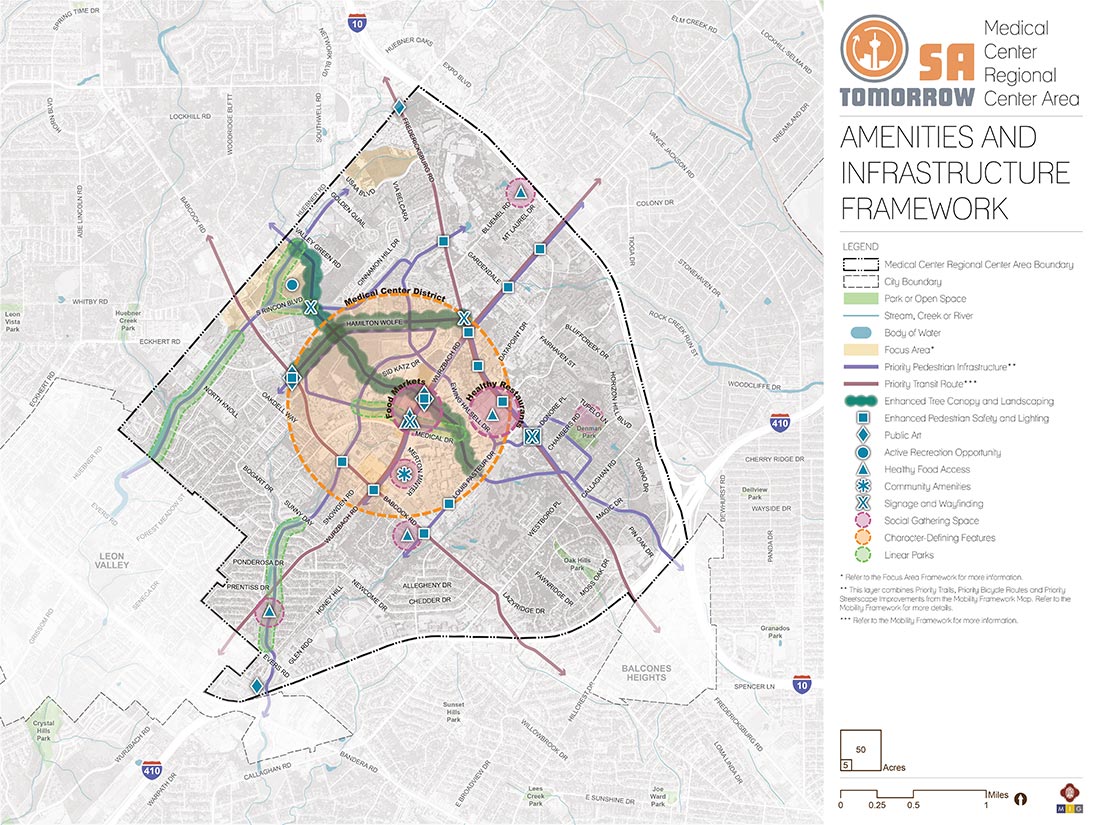 Amenities and Infrastructure Components
Parks, Trails and Open Space
The Medical Center Area Regional Center has a limited amount of publicly accessible green space. The green space inventory includes two public parks, Denman Park and Oak Hills Park, and privately-operated running trails at the University of Texas Health Science Center and USAA. The City's Parks and Recreation Department has proposed extending their current greenway trails program into the Regional Center by activating parts of the Huebner Creek tributary, which will encourage more recreation and increase connectivity.
Enhanced Streetscape
The Regional Center includes many major corridors that must accommodate motor vehicles, pedestrian, bicycle, and public transit usage. In order to make pedestrian and bicyclist activity safer, it is crucial to enhance the streetscape by widening sidewalks, adding more defined crosswalks, increasing/adding street lighting, and incorporating more landscaping and street trees. The community wants to be able to safely access nearby uses, including greenways and restaurants, and these features are crucial to creating this type of environment.
Community Amenities
Regarding community amenities, the community expressed a strong interest in new healthy food options, outdoor gathering spaces, and incorporating district defining character design. The layout and uses of the community are disconnected because each use was individually created. These amenities and design features will create a cohesive feel to the community and serve existing residents as well as encourage visitors to enjoy the Center.